Trees are a hugely beneficial part of our environment, whether they're planted in a private garden or public area. However, removing a tree is sometimes required if it's outgrown the space, poses a danger or has become diseased, but it can be hard to know what to expect during the process.
To makes things easier for you, here's our simple guide to what happens during tree felling.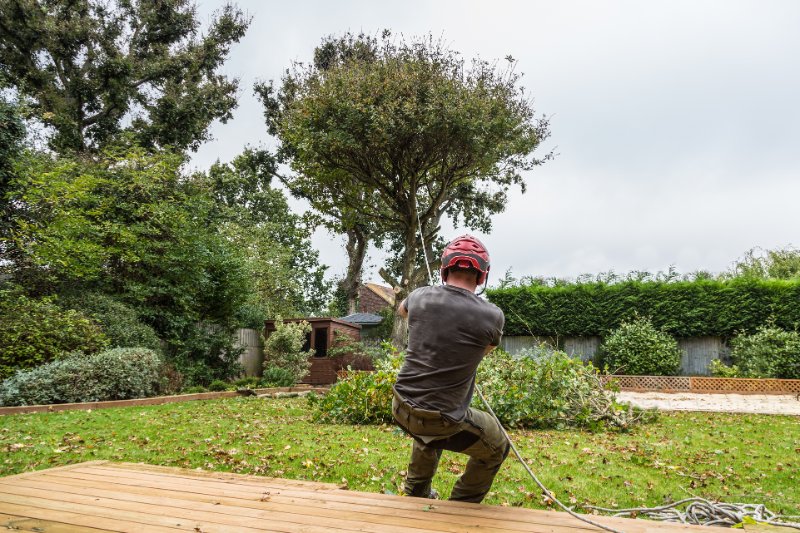 Who can remove a tree?
When it comes to who can remove a tree, it will come down to two main factors – the tree ownership and any restrictions applied, such as tree preservation orders (TPOs). If you live in a rented property, you must get your landlord's permission first.
While you may have the right to remove overhanging branches coming onto your property, you're not allowed to fell a tree if it's based on someone else's land, such as a neighbour's property, without their permission. If there's a TPO in place, you'd have to contact your local authority about why the tree needs removing.
Do you need a tree removal licence?
Tree felling licences are sometimes required if the tree is based outside of a private garden or commercial site. You can check the full list of exemptions on the government website here. If not exempt, it's an offence to fell a tree without a licence, and this may come with added conditions, such as replanting requirements.
If you're felling a tree solely within your own garden, always be aware that any damage caused by the tree felling works is your liability.
Should you fell a tree yourself?
The main thing to stress is that DIY tree felling is never a good idea, or you could cause serious harm to others, yourself, neighbouring trees or even your property. You should always use the services of a professional tree surgeon. You could even ask them to check any trees you're unsure about as part of your summer tree care plans.
During the felling process, professionals will wear protective equipment and secure the surrounding space to ensure the tree removal can be completed as safely as possible.
What are the safest tree felling methods?
The two main tree removal techniques are straight felling and section felling.
Straight tree felling can only occur if there's a large unobstructed area around the felling site. This involves cutting a notch at the base of the trunk to determine the direction of the fall. This is followed up by a felling cut, and the tree falls, directed to the ground in one go.
However, in smaller spaces or where the tree is hard to reach, section felling is safest. For this method, a skilled arborist is harnessed to the tree, safely cutting down sections so that the tree is removed bit by bit. Each cut section will be carefully lowed to the ground via specialist rigging.
Arrange tree removal services
If you'd like to request tree felling at your property or site, please contact Fair Oaks Tree Services today. We work across Caterham, Woodmansterne and Coulsdon.
For more advice or to book a tree removal, call now on 07780 445079.