Specialist tree surgeons in and around Leatherhead, Surrey
Here at Fairoaks Tree Services, we provide qualified and professional tree care services to private individuals and homeowners based throughout Leatherhead, Ashtead and the nearby areas of Surrey and South London. We offer a wide range of arboriculture services, from sectional and straight tree felling, through to tree pruning, hedge trimming and innovative garden design.
Our tree surgeons can complete jobs of all sizes, from small domestic garden jobs, through to helping large businesses with their tree and hedge management needs. We complete every task on time and on budget. We work throughout the local areas, including in Croydon.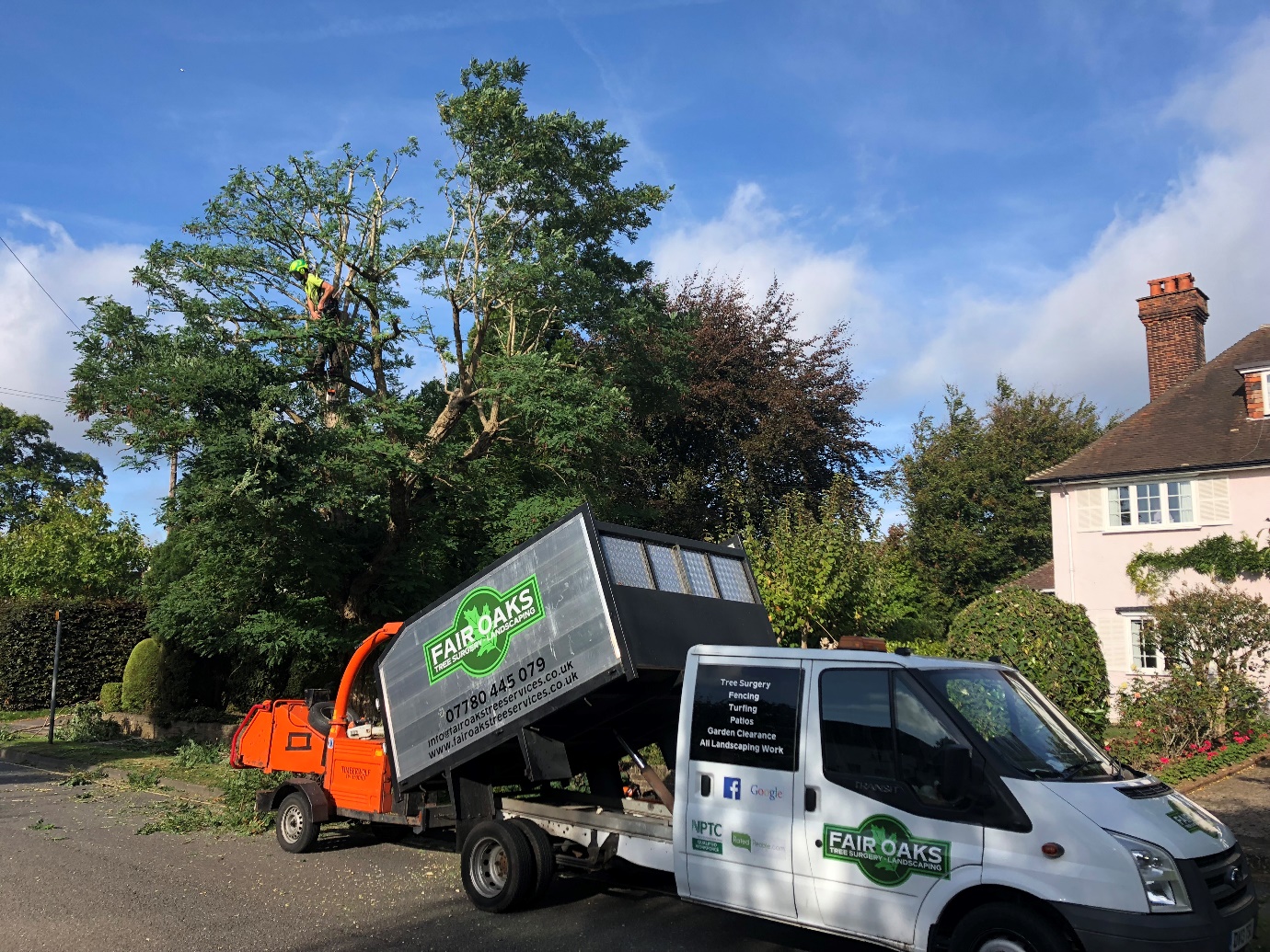 Why choose Fair Oaks Tree Service for tree work?
We are passionate about trees and the work we do

All our NPTC-trained arborists are highly skilled and experienced and have a keen eye for detail

We offer free quotations and honest advice with no obligation to proceed with any work

We are fully insured and hold £5million public liability insurance on all services for your peace of mind

We are passionate about trees and the work we do

We gave a strong commitment to sustainability and the environment

We always ensure all our work is done causing minimal disturbance and we will leave your site clear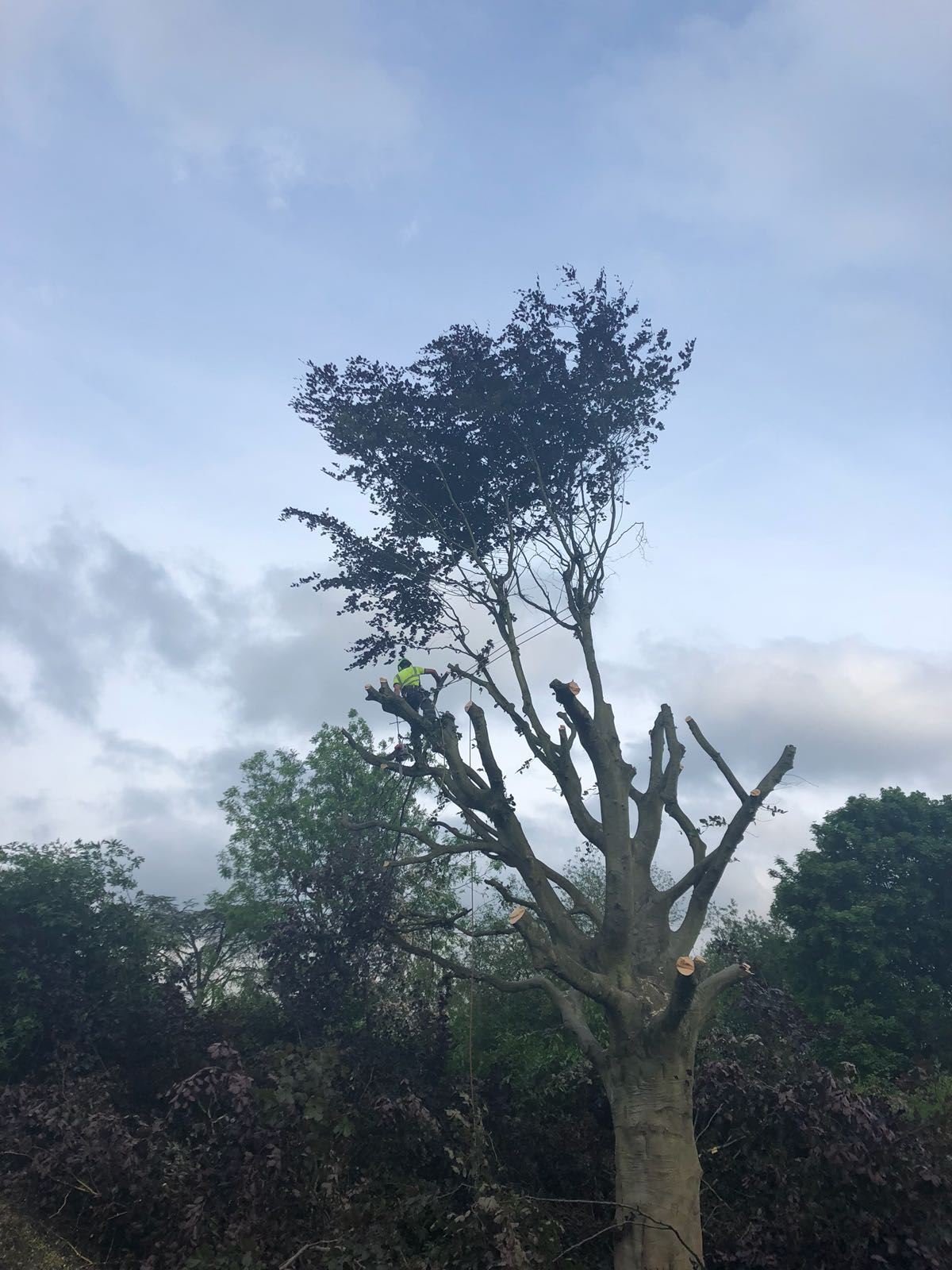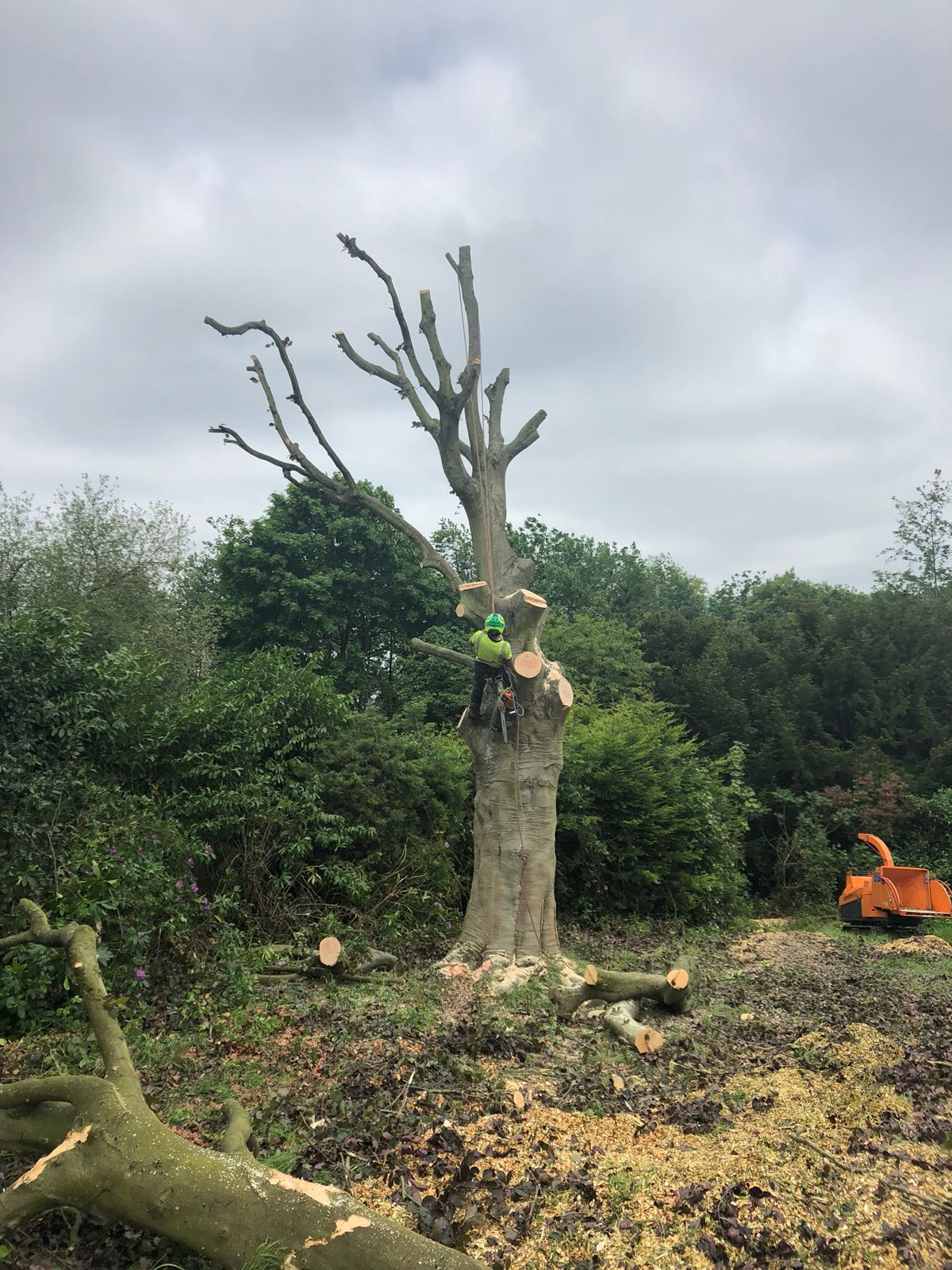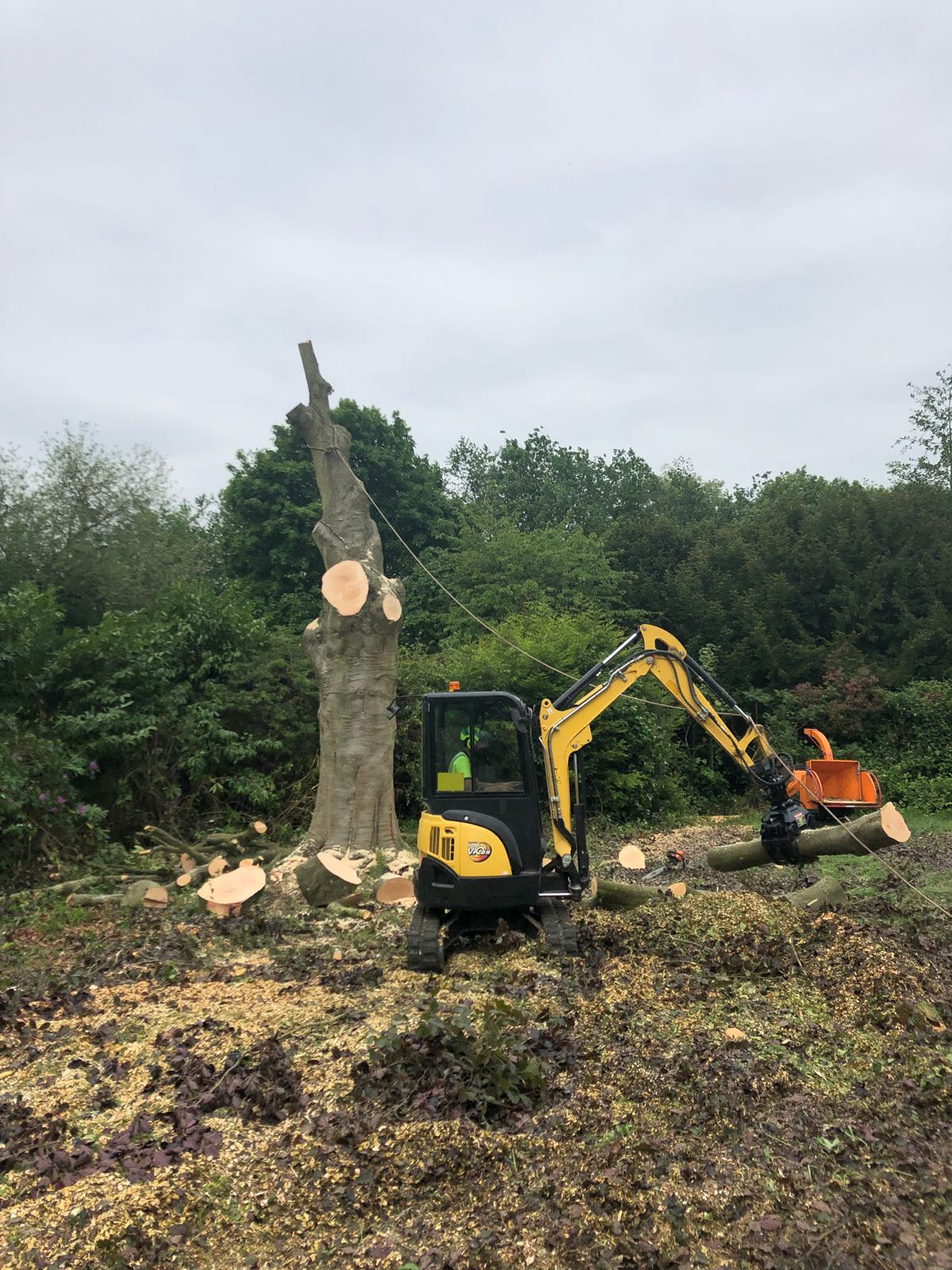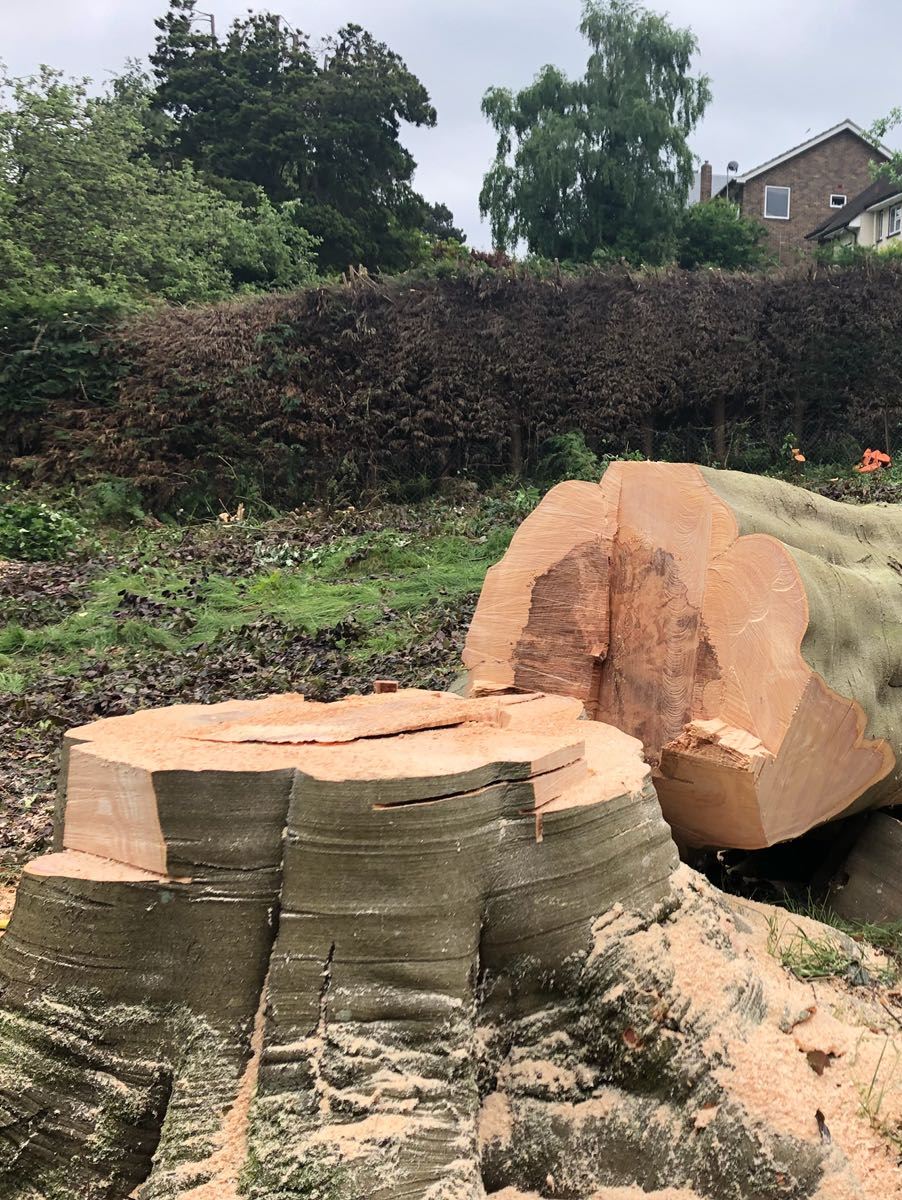 All our staff are NPTC (National Proficiency Test Council) qualified and we have public liability insurance to the value of £5million. We have all the correct equipment, experience and training, so that we can complete jobs safely and efficiently.
Our tree services include:
Crowning thinning
Crown lifting
Tree felling (straight felling and section felling)
Tree stump removal and stump grinding
Hedge trimming
We also offer a wide range of other garden-related services to all our customers, including fencing, landscaping and garden clearances. We can advise you about all aspects of your garden and tree care.
For more details, please call us now on 07780 445 079.
Tree felling and dismantling by arborists near Ashtead (KT11)
We will always make every effort to save any tree, but trees will sometimes need to be removed if they are dead, damaged or if they have overgrown the space available to them.
Felling trees is a dangerous activity and one that should only be completed by a professional tree surgeon. Planning every job carefully so it is done safely and without damage to the nearby areas is crucial. Trees can be felled one of two ways; either where the tree is removed in a single section, known as straight felling, or where a tree is dismantled in sections, known as sectional or section felling.
Trees are often dismantled in sections because of their locations to property, buildings, roads and even other gardens. We used specialised rigging and lowering equipment, to ensure the safety of our staff and passers-by. We can take away all waste for recycling and we also provide an efficient and safe tree stump removals service.
Leatherhead tree pruning
Tree pruning involves a variety of techniques to keep trees healthy and in a good condition. Sometimes known as tree cutting, or tree lopping, these techniques include:
Crown lifting: If the lower branches of a tree are causing problems, then we recommend crown lifting, where the branches are pruned back to 'lift' the height of the canopy.
Crown reduction: If a tree has become too large, the overall size of the canopy can be reduced. This will prolong the life of the tree and improve its overall appearance, so more light can shine through the canopy. If you have a tree that is blocking your light, this type of pruning can be particularly effective. See an example of a recent crown reduction in Kingswood.
Crown thinning: If you have a tree with a dense crown, crown thinning thins the branches to allow more light through and lessen the damage from the wind.
Hedge trimming in Leatherhead
Just like trees, hedge require regular maintenance to keep them safe and healthy. We offer a range of one-off and regular hedge trimming services, so we can keep your hedges looking neat and tidy and so they stay in good health.
Fair Oaks Tree Services has been carrying out a lot of work around the lovely Kingswood area of Surrey recently. With lots of large mature trees in the area, we have been very busy with crown reductions, dead wooding and tree inspections. The Project: Crown Reduction on a Robinia Tree We advise all our
For tree stump removals, tree pruning and other tree services, call our Leatherhead tree surgeons
If you need help with your trees or garden, call us now on 07780 445 079 or email info@fairoakstreeservices.co.uk